2020 Jail Break Tournament
---
---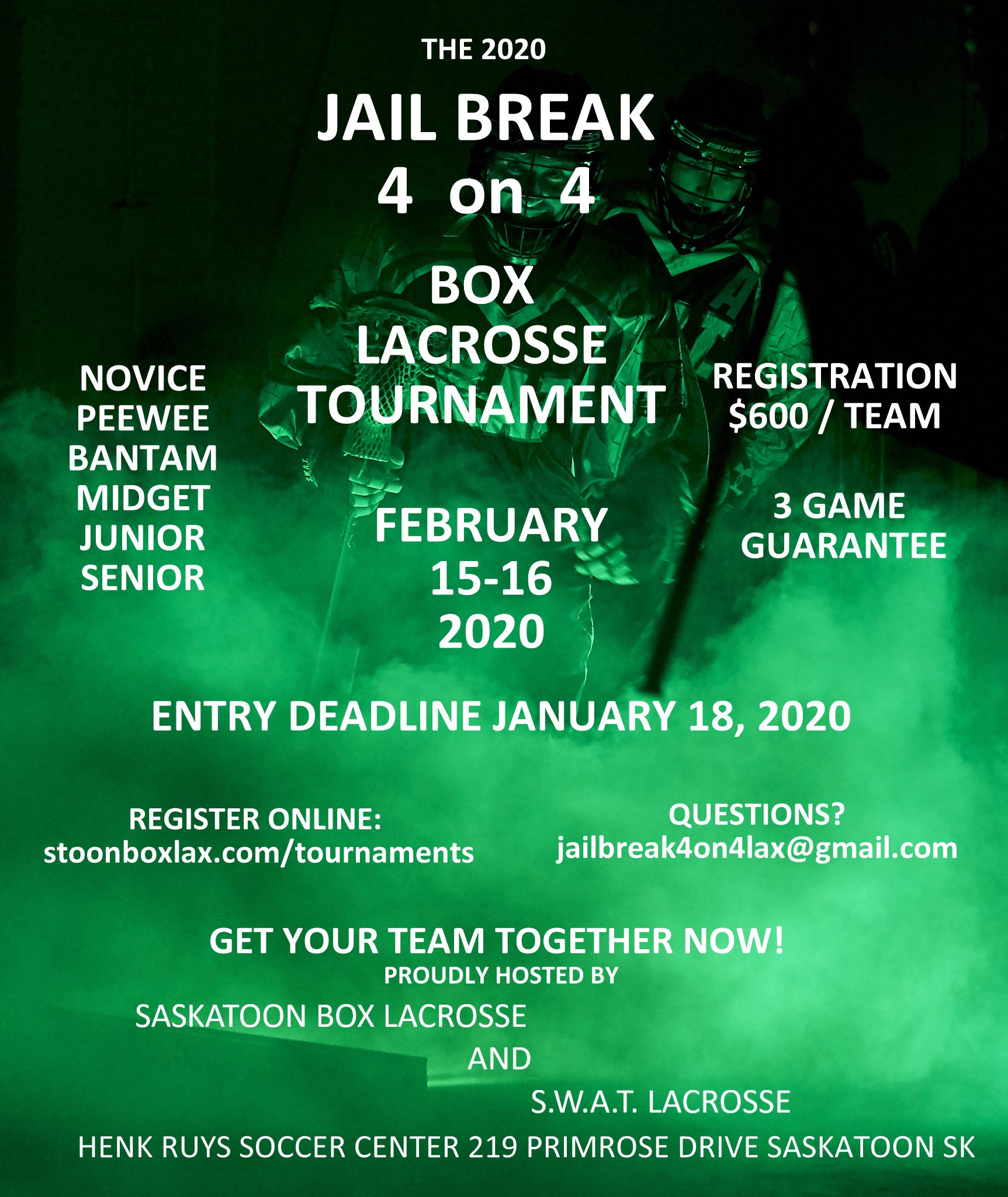 ---
Thank you for your interest in our event. This year the tournament saw a huge numbers of entries.
Registration is now closed!
for all the schedules and any tournament information
Jailbreak 4 on 4 Box Lacrosse Tournament
Henk Ruys Soccer Centre
219 Primrose Dr, Saskatoon, SK S7K 2J9
Cost -- $600 per 10 player team (9 runners + 1 goalie) - 3 games guaranteed
Divisions
10U (Novice) - 2010/ 2011
12U (PeeWee) - 2008/ 2009
14U (Bantam) - 2006/2007
16U (Midget) - 2004/2005
20U (Junior) - 2003-1999
Senior - 1999 and older
DIVISIONS MUST HAVE 3+ TEAMS OR BE CANCELLED
Payment required at time of registration
Refunds/Cancellations - Refunds will be given if team cancels prior to Jan 18th, 2018. If cancelled afterwards; refunds will only be granted if occupied spot was able to be filled
Waivers - Signed waivers will be included in the tournament packages. Players without signed waivers will

not

be allowed in the dressing room/players box or on the floor to play in a game.
Abuse & Harassment of officials, players, parent or tournament organizers will not be tolerated. Any display of unacceptable behavior will give the Jailbreak tournament organizers the right to remove/disqualify a team from the tournament
Birth certificates maybe required to provide proof of age

All

players must have a signed waiver in order to be an eligible player
Team rosters are considered final as of 2 weeks before tournament. Any changes must be made before then.
Special consideration will be given to teams with injured players
This tournament is Online Registration ONLY. Registration and payment can be completed via the following link.
OR
By accessing the 'Tournaments' link in the top left corner of the SBLA Website. Going forward please refer to the website for schedules, updates, and results
A full tournament WELCOME package will be sent out via email once your registration is complete.
This package will include:
Host Hotel Information
Waivers
Basic Tournament information
etc
If this package it not received within 10 days of registering, please contact the email below
See you on the Floor!
Questions?
jailbreak4on4lax@gmail.com